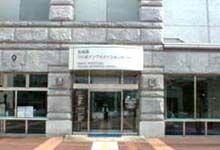 The Tsukuba Information Center has some displays about Tsukuba and lots of information about the place. The main attraction for a lot of foreign residents is the notice board where one can post adverts. This used to be the place for Sayonara Sale announcements before TAIRA took off.
They also distribute the Alien Times and the Ibaraki Report as well as the free magazine from Tokyo, Metropolis.
There is a reading corner with English language and Japanese language newspapers, as well as books you can read on the premises. They also run Japanese classes as well as other cultural activities such as Ikebana classes.
The next round of Japanese classes start in October, 2005. Registration will be held on September 13th between 1-2 pm.
Japanese Chatting Time
[
]
Tsukuba Information Center hosts Japanese Chatting Time on the 2nd and 4th Fridays fromo 1:30pm to 3:30pm. Admission is free. No reservation necessary. It is designed for people who have learned Japanese but do not have opportunities to talk with Japanese people. Please join us to meet new people and practice your Japanese. All levels are welcome.
Volunteering at Tsukuba Information Center
[
]
Tsukuba information center offers "Conversation across Culture" to promote international understanding every Saturday from 11am to 12:30pm. The purpose of this event is to share ideas and experiences about each others' cultures in English. Participants talk freely in English over a cup of coffee/tea. We are now looking for a new volunteer staff for this event. Participants are also welcome to join the meeting.
What do the Volunteer Staffs do?
Arrive punctually
Make instant coffee/tea for participants
Talk to participants and encourage them to talk with others
Wash coffee cups after the meeting
We are looking for people who can basically attend every time and enjoy talking in English with people from different countries, cultures, and generations.
If you are interested, please contact the center.
Contact
[
]
Links
[
]